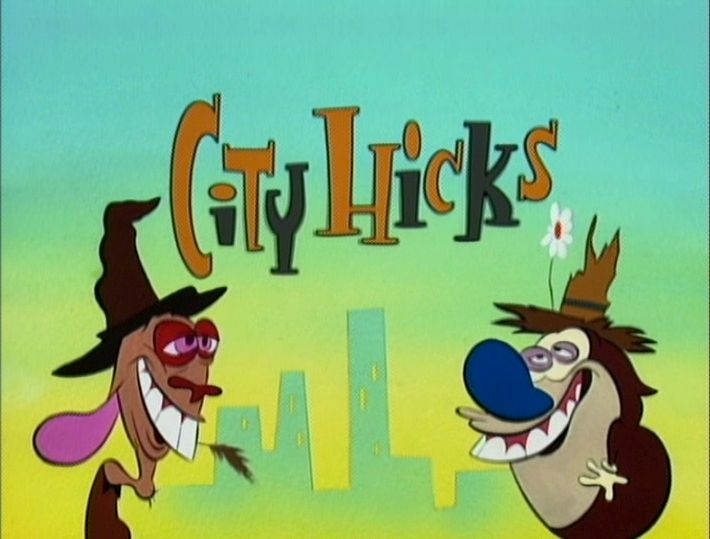 Directed by:  Ken Bruce
Storyboards by:  Jim Kammerud
Animation by:  Toon-Us-In
Music used in the episode.
Ren and Stimpy are dirt farmers, who not only harvest grime but eat it.  And they fear rain, because it eradicates their dust and makes the land fertile.  Oh, I get it:  It's the polar opposite of a normal farmer.  Oy.  After a rainstorm, Ren and Stimpy's dust crops are ruined, so they ditch the bountiful farm and head for the big city, where dirt is ample in supply.  Problem is, they soon encounter hardships:  Ren and Stimpy's sheep are stolen/towed, and despite finding tons of dirt on the streets, they are informed by the union boss that they can't collect it yet; they have to start at the bottom.  The bottom involves such things as working at Tex-A-Dyne (where they're test subjects for bug spray) and as immigration officers.  And no sooner do they get comfortable with the latter job that it's taken away from them by one of the immigrants they checked into the country.  Kind of an amusing satire on real life job politics, but more "smirk" funny than "ha ha" funny.  With no job and no food, Ren and Stimpy are set to die on the streets… until they're miraculously rescued by Dusty Claus, who takes them to his dust mines where they're toil for the rest of their lives.  Is this a happy ending?  "It's an ending; that's enough."
"City Hicks" feels phoned in in pretty much every department; from the voice acting to the animation to the mediocre plot, which is basically a weaker retread of "Wiener Barons" (which itself wasn't a particularly amazing cartoon to begin with).  Only the color scheme is impressive throughout; there are some interesting color choices presented here.  (BTW, no digital ink and paint company is listed in the credits, but this had to have been digitally colored; just look at it!)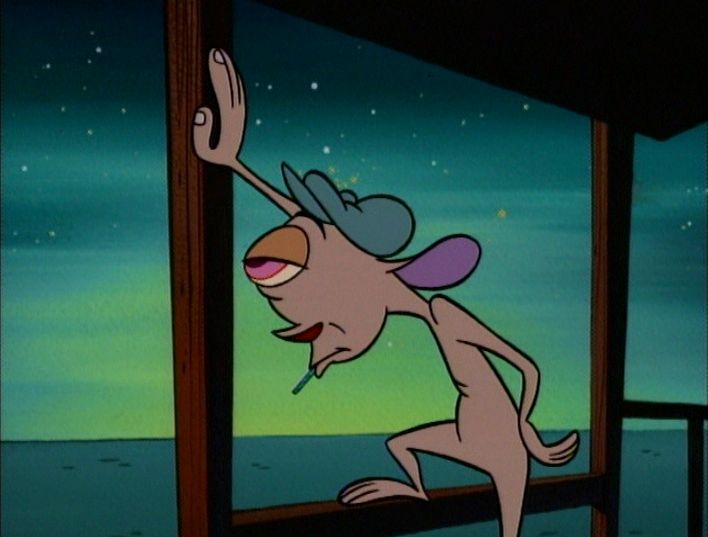 Gorgeous green sunset!  Ren's sporting a classic farmer pose here, too.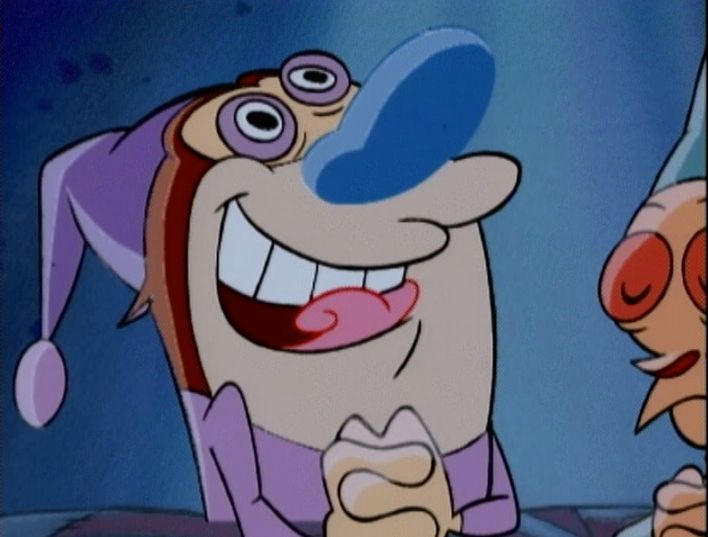 Animation mistake with Stimpy's eyes here.  Strangely, when he blinks, they're briefly normal, only to revert back to wrong.  That said, I do like Ren's prayer in this scene:  "Dear Lord, we thank thee for this blessed drought which thou has beset upon us.  And let no seed find purchase in this forsaken land which we have stolen from the Indians."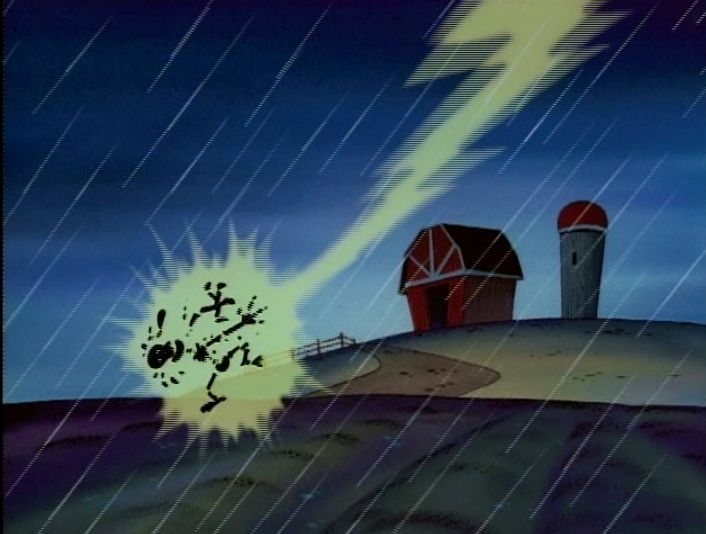 A rather predictable gag when Ren commands God to answer him, and is soon after struck by lightning.  Didn't the writers get their fill of lightning gags in "Superstitious Stimpy"?
More recycling:  This echoes the ending of "No Pants Today".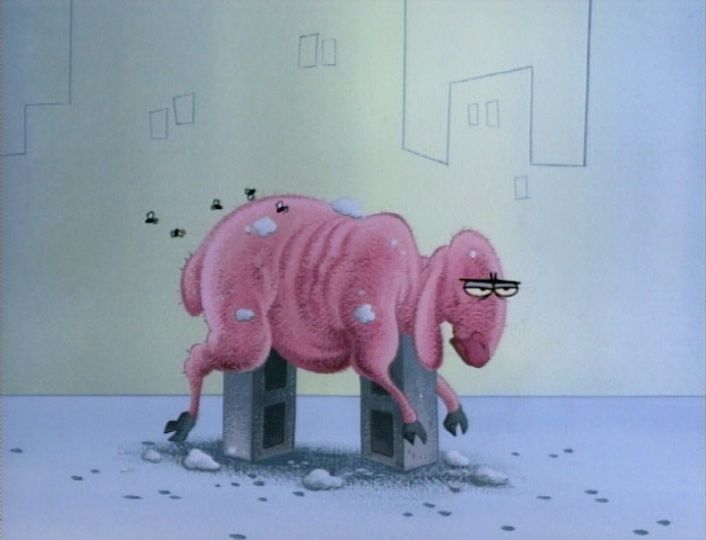 An OK gag:  Ren's sheep (which he rode into town) has been stripped like a car.  Welcome to the big city.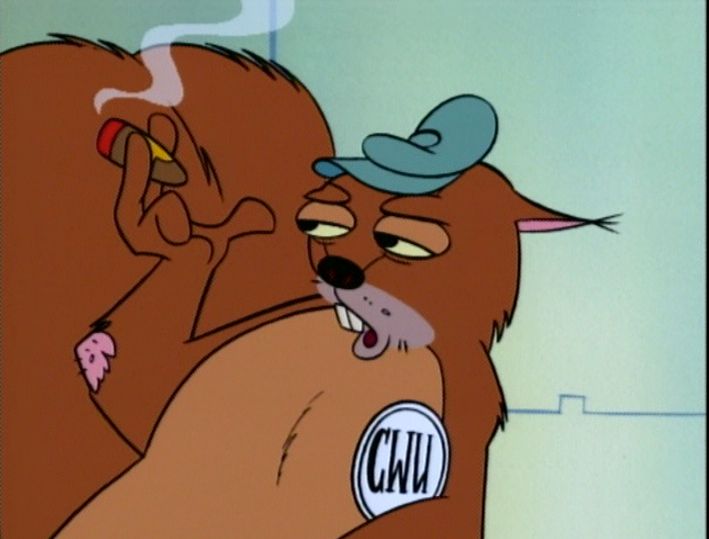 This squirrel union leader is kind of a wasted character:  He briefly appears to inform Ren and Stimpy that they've got to start at the bottom and lets his associates take good care of them.  And then we never see him again.  Maybe I'm reaching, but I think this sleazy character had potential.  They could've even made an On the Waterfront parody or something.  Alas, it was not to be.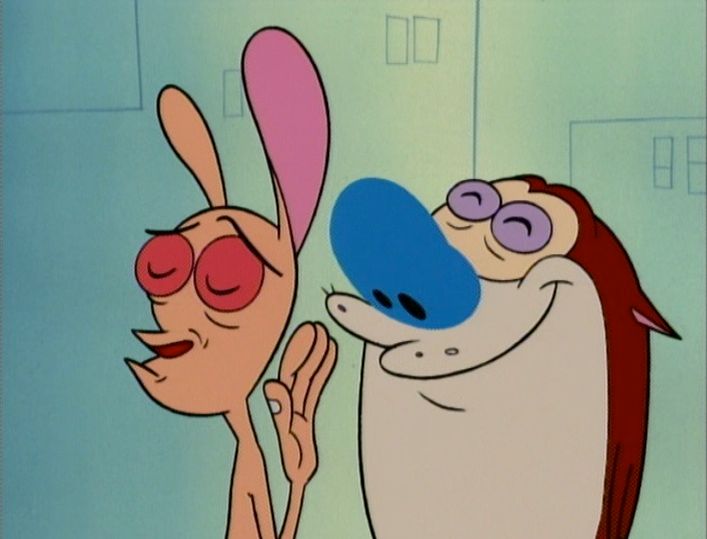 This is an odd storyboarding choice:  Stimpy says, "Did you hear that, Ren?  It's our lucky day!  We get to start at the bottom!"  Ren raises his arm while Stimpy talks… for some reason.  Was he going to slap Stimpy but just decided not to?  Was he nonverbally indicating that he wanted Stimpy to stop talking?  Was he getting ready to push Stimpy down?  Or was he about to take an oath?  I'm so confused.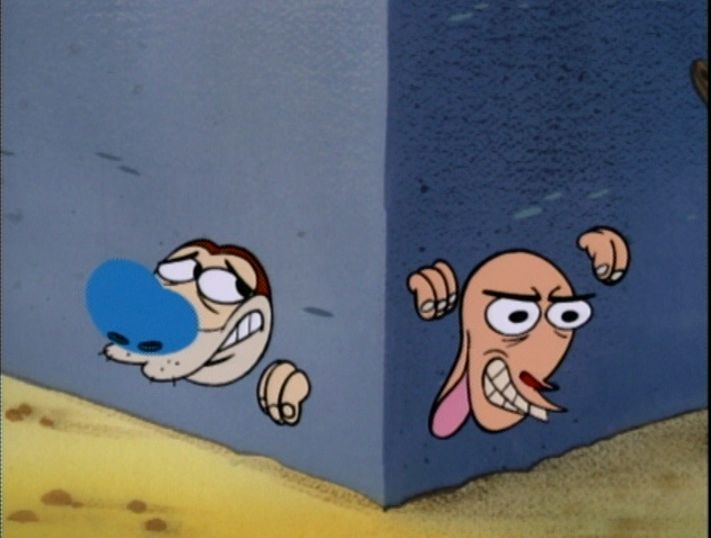 This gag could've been more clear.  At a construction site, Ren and Stimpy are suddenly stuck in cement.  Stimpy whines, "My butt's itchy!"  It's apparently a visual representation of "starting at the bottom", but it doesn't come through very well in the execution.
More or less a repeated gag from "Travelogue", except this time the immigrants act like fish plucked from the water.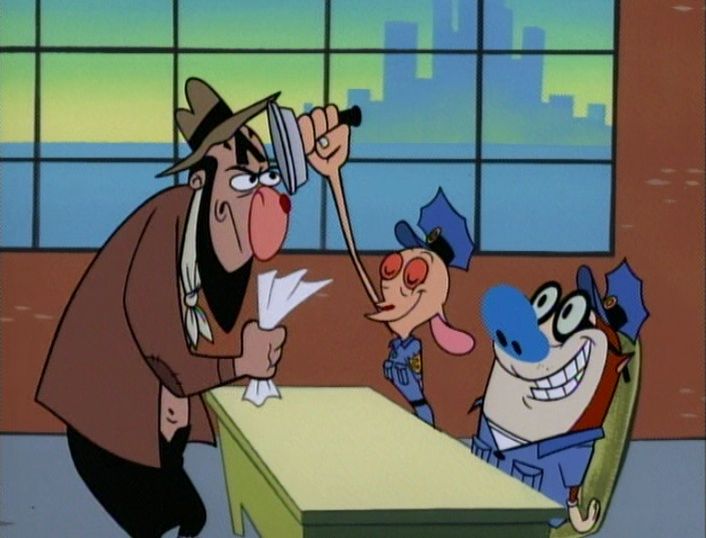 This scene offers the only truly funny joke in the cartoon:  As immigration officers, Stimpy changes immigrant Chad Jones's name to the far more complicated Bgayho Bagdesarian.  I'd be annoyed too.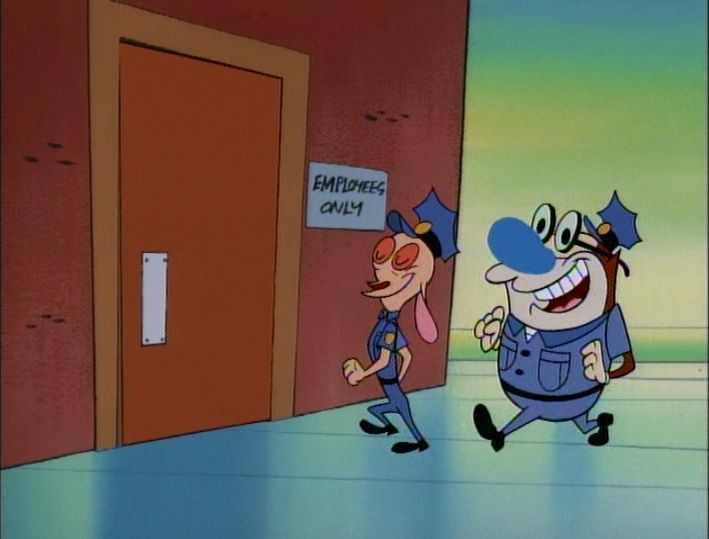 Maybe it's just me, but with glasses on, Stimpy looks like a cross between Mr. Slate and Peabody.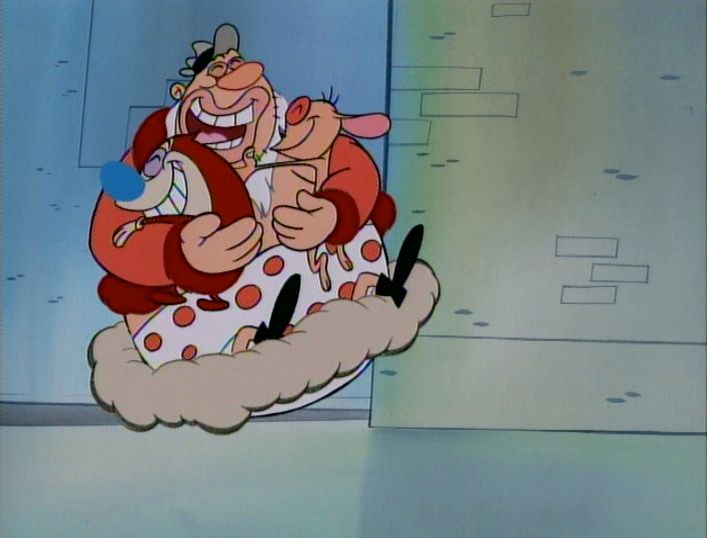 I've never seen two people so happy to hear they're becoming slaves.
>> Stimpy's Pet